About Roberta
July 16, 2014
On her 45th birthday, in control of  life-long intractable epilepsy and autism, Roberta is experiencing the joys and challenges of conscious personhood. Roberta's progress is made possible through a robust support system of parents, friends, and community.
Roberta  has much to teach about "autilepsy", the comorbidity of epilepsy and autism. If she can continue to mature, Roberta has the energy, intelligence and compassion of a dynamic teacher.
Eugene, Oregon, Thanksgiving 2015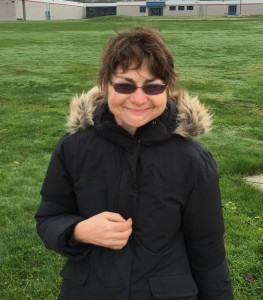 Six years ago Roberta began demonstrating that "life begins at forty". Her awakening from intractable seizures and autism was recorded in a mini-documentary by Robert Dyck.
On line also is a transcript of Roberta's 2006 interview for the radio program  "Genes And The Mind" (see pages 6 and 7), and her abstract pastels may be viewed at the websites of two non-profits in Eugene, KindTree and OSLP.
Perhaps Roberta will come to express more fully both in art and words her experience of "autilepsy", the scourge of autism and epilepsy that devastates countless lives around the globe.
---
CURRENT MANAGEMENT PLAN
DIET IS KEY: ACIDOSIS-SPARING, EUKETONEMIC KETOGENIC DIET (ASEK) for MITOCHONDRIAL SUPPORT, ACID-BASE HOMEOSTASIS, and OPTIMAL NUTRITION from BALANCED SPECIFIC FATS and NUTRIENT-DENSE, ORGANIC, WHOLE FOODS
INTRODUCTION
Roberta Nicole Abady is a 46-year old woman with diagnoses of epilepsy associated with subcortical band heterotopia (double cortex syndrome), a mild degree of lissencephaly (smooth brain), and autism spectrum disorder (ASD). Her developmental years were devastated by continual seizures of multiple types (Lennox-Gastaut Syndrome) that impaired her ability to develop age-appropriate cognitive and social skills. Therapeutic dietary management started with a series of unsuccessful experiments: Atkins diet (1996), Johns Hopkins protocol ketogenic diet (1997), low glycemic index diet (1998). Despite her very low seizure threshold, Roberta's current regimen protects against break-through seizures and supports excellent health.
DIETARY MANAGEMENT SUPPORTS HOMEOSTASIS
Acid-base (pH) homeostasis is key. If an exceptionally strong smell of acetone is detected on the breath, excessive circulating ketone bodies may induce sub-clinical acidosis that historically triggers simple (with retention of consciousness) and complex (with loss of consciousness) partial seizures. 
SEIZURE CONTROL
Tonic clonic seizures (grand mal) are controlled by anti-convulsants. Acidosis-sparing euketonemic diet (ASEK) controls atypical and partial seizures. Sub-clinical acidosis, induced by hyper-ketonemia (large ketones 80-160 ketostix reading), dehydration, and over-heating, historically provoke break-through non-convulsive seizures.
BIO MARKERS
Glucose range, independent of fasting, is maintained at the normal fasting blood glucose level, 70-100 mg/dL (3.9-5.6 mmol/L).
Urinary ketone readings range from trace through small – moderate (trace-40 on Ketostix).
Hydration is within normal specific gravity range.
Weight is maintained at ~ 52 kilos (~114 lbs)
Normal metabolic and lipid panels are maintained.
Lipid panel lab ranges indicate low triglycerides, moderately high total cholesterol, and high HDL, without risk factors for diabetes, metabolic syndrome, or heart disease.
 DIETARY COMPONENTS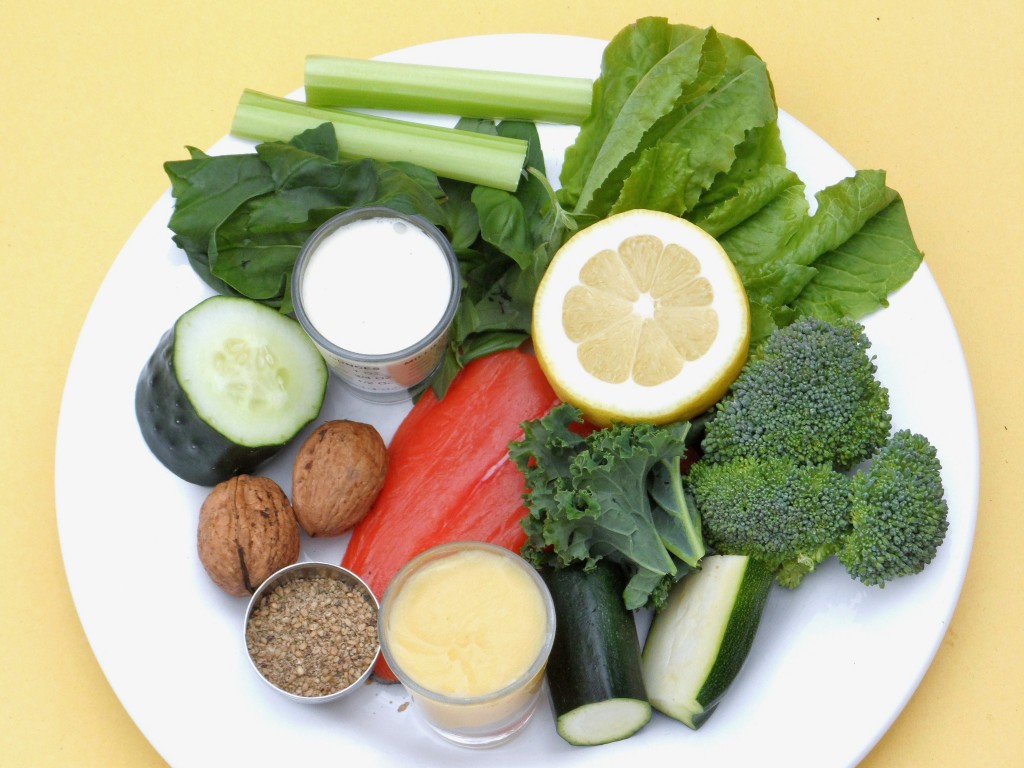 Roberta's Daily Menu
    (pdf)
FAT
100% fat organic ghee (clarified pure butter), ~95% fat whipping cream, and 100% fat crème fraîche. Pure dairy fat from pastured cows provides pre-formed fatty acids that are optimal substrate for efficient energy production. Combined with additional omega 6 and omega 3 fatty acids from complementary ASEK dietary components, the overall fatty acid composition mimics that of human milk, Nature's formula for optimal nurturing of the human brain and central nervous system.
 PROTEIN
2 eggs at breakfast
3 ounces meat at lunch; choices are a rotation of beef, pork, and lamb from pastured animals.
3 ounces wild fish at dinner. Varieties of fish are rotated. Wild salmon is included in each rotation.
CARBOHYDRATE
COOKED very low carbohydrate green vegetables: asparagus, baby bok choy, broccoli, Brussels sprouts, celery, chards, green pepper, kale, spinach, zucchini.
RAW very low carbohydrate green vegetables: arugula (roquette), celery, cucumber, green pepper, salad greens and lettuce of all varieties except iceberg, scallions (green onions), water cress. One third of a small avocado, doused in lemon juice to prevent browning (oxidation), may be included.
ASEK SEASONING
2 teaspoons Eden organic "Seaweed Gomasio" (sesame seeds, sea vegetables, sea salt; with each meal, for a total of 6 teaspoons/d. Based on a 2000 calorie diet 12% calcium and 12% iron requirements are supplied).
Juice and pulp of 1 lemon divided equally among breakfast, lunch, and dinner.
2 almonds and 2 walnut pieces with each meal.
OPTIONAL ADDITIONAL SEASONINGS
Sprigs of organic herbs may be added to meals: basil, chives, cilantro, marjoram, oregano, parsley, tarragon, thyme; organic spices: ginger, turmeric (cumin).
BEVERAGES
Mineral or Spring water
Cream drink (one half cup Celestial Seasonings "Roastaroma" caffeine-free tea with 2 tablespoons ~40% whipping cream (90% calories from fat) and 4 drops pure vanilla extract (preserved in glycerine)
Allowed infusions: passion flower, hibiscus, peppermint, tulsi tea aka holy basil (omnium sanctum); lemon juice and grated ginger; vegetable broths.
BREAKFAST INGREDIENTS
2 eggs beaten with 2 tablespoons heavy whipping cream (90% of calories from fat), 1 measuring cup cooked vegetables (choose 3), 1 measuring cup raw vegetables (choose 3), 2 tablespoons ghee, ASEK seasoning, cream drink.
LUNCH and DINNER INGREDIENTS 
3 ounces (raw weight) meat at lunch; 3 ounces (raw weight) fish at dinner; 1 cup cooked vegetables (choose 3); 1 cup raw vegetables (choose 3); seasoning with lemon and nuts; cream drink. 2 cups of allowed vegetables with each of 3 meals = 6 cups/d allowed vegetables providing ~1000 mg. calcium. 1 tablespoon ghee, 1 tablespoon crème fraîche, ASEK seasoning, cream drink.
BREAKFAST PREPARATION
Gently sauté vegetables with ghee in stainless steel wok on medium/low heat. Do not overcook; keep vegetables crisp.
Beat egg with 2 tablespoons heavy whipping cream (40% fat) and add to vegetables in the wok.
Stir and cook on low heat until eggs reach a soft scrambled consistency.
Add raw greens and seasoning (2 teaspoons seaweed gomasio, juice and pulp of one third lemon, 2 almonds and 2 walnut pieces).
Serve with cream drink.
LUNCH and DINNER PREPARATION
Place meat or fish, vegetables that are to be cooked, ghee and 2 tablespoons water in wok.
Cover with lid; cook on medium-low heat, stirring occasionally, until meat or fish is cooked through.
Add to plate of raw vegetables and seasoning (2 teaspoons seaweed gomasio, juice and pulp of one third lemon, 2 almonds and 2 walnut pieces)
Serve with cream drink
A mid-morning, mid-afternoon or evening drink, with or without 2 tablespoons heavy cream, is allowed. Snacks are not allowed.
---
---
ORGANIC PRODUCTS and PRODUCE
Purity Farms Ghee
Eden Organic Seaweed Gomasio
http://www.edenfoods.com/store/product_info.php?products_id=104260
Straus 40% Heavy Whipping Cream
strausfamilycreamery.com/products/item/organic-whipping-cream